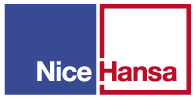 Motors in South Africa
By far the most popular motors in South Africa are sliding motors, as compared to Europe, where swing motors are more popular. In South Africa slide motors probably make up 80% of the market. Nice Hansa is one of the most popular motor suppliers in Johannesburg.
Nice Hansa motors
Nice Hansa has a large range of motors, most of them being made by Nice in Italy as most manufacturers are moving offshore simply because of cost.
The Robus 250
The Robus 250 is the Nice Hansa entry-level motor. It is Hansa's most popular motor. With its 31 kg of thrust, its main advantage is that it is 50% more powerful than its competitors. It has a cast aluminium gearbox housing and override. Because its housing is not plastic, you can't open it with a screwdriver and tamper with it. The keys are also not common: it is not a 'one key fits all' scenario like many other motors.
The Robus 500
If your thrust needs to exceed 31kg, you can upgrade to the Robus 500. This has 38 kg of thrust. It also has higher gearing and is just a bigger motor overall. It has a cast aluminium gearbox housing, override and unique key system, all of which makes it very difficult to steal.
Both of these Robus motors are equipped with battery backup systems which is one of their biggest advantages. They are 24V motors and both work on the grid. In other words there is a large transformer inside the motor which is powerful enough to push the motor. The battery is there purely as a backup.
The Robus 250 has a duty cycle of 400 and the Robus 500 has a duty cycle of 450 operations per day.


Hansa Speedo Motor
The Hansa Speedo motor, which is for much heavier gates, is the most powerful DC motor on the market. It has 60 kg of thrust and can push a gate of up to 1200kg. It comes in two varieties that both operate by using a trickle charger to charge the batteries. It works off the batteries all the time or with a power pack. This means that it has a big transformer in it which will power the machine. The batteries are there purely for backup.
If you have a very heavy gate or a high duty cycle then we recommend that you use the power pack so that the motor will run smoothly for long periods of time. The machines kick into high gear. These are the only motors in South Africa that are suitable for extremely heavy duty gates.
There is no other manufacturer that provides motors up to this level. Those wanting to install very heavy duty gates only have the option of using Nice Hansa motors as they are the only motors suitable for this level of usage in South Africa.
Run2001
Also in the Nice Hansa range is the Run200I. This machine has a huge torque output of about 180kg thrust. It is a three phase motor with a 220V input and inverter. It can push up to 2.5 tonnes. In fact these figures are underrated: this motor can actually push more than that if the gates are fitted with good wheels etc. There is no battery backup on this machine as this is not possible on such a powerful machine. What it provides is a machine that pushes through stress factor thrust.