Nice Hansa Gate Motors
Nice Hansa Gate Motors have a well earned reputation for power and durability. The rage starts from entry level motors to extra heavy industrial motors. No other manufacturer in South Africa can offer such an extensive rage of motors to choose from.
Nice Hansa gate motors have been designed and built in South Africa, designed to withstand the harsh African conditions. This range of Gate Motors offer extreme reliability and durability.
We supply, service and repair the complete range of Nice Hansa gate automation products.
Specific Gate Motors also feature the fast open / close facility which enhances your safety and has been specifically designed with your security in mind.
Nice Hansa Gate Motors feature the all new Nice Hansa Speedo, 24Volt Battery Back-up Gate Motors, the Nice Hansa Elite 24 Volt Swing Gate Motors, with 24Volt Battery Backup and the Nice Hansa 380Volt - 3 Phase Extra Heavy Duty Sliding Gate Motors for gates up to 2000 kg's and by special request only for gates up to 3000kg's.
For a more in depth review of these motors, please follow this link.
Call us today for a free quotation on any Nice Hansa products.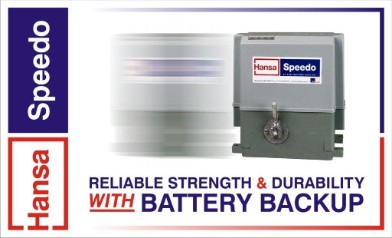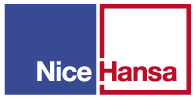 (011)463-7568
24 hour emergency number
083 452 2015
info@hansa-gates.co.za
Nice Metroplex Swing Gate Motor
The Nice Metroplex is the ideal swing gate motor for intensive use and can be used for swing gate leaves up to 2.5m long with a maximum weight of 600kg. Alternatively it can accommodated leaves up to 3.5m long with a maximum weight of 350kg however, for any gate leaves wider than 2.5m an electric lock system should be installed.
This gearmotor offers rechargeable batteries ensure continued operation during power failures. Should it be necessary to manually open the gates this can be done by using keys to release the gearmotor and open and close the swing gate/s manually. Since the detection system will stop the system from moving if a person or car is in the way the system offer a high level of safety.
Custom swing gate automation
In the video you can see the synchronised opening and closing of two doors leading into a garden. This is a custom automation performed by Gate Repair Services' technicians.
Applications for the Nice Hansa Metroplex
The Metroplex is the ideal swing gate motor system for custom automation of pedestrian gates as well as entry gates. The motor can be used for both double leaf swing gates and single leaf swing gates. Since the Nice Metroplex is compatible with the Solemyo solar power kit – this gate motor is ideal for installation on gates that cannot be automated with power from the power mains.
Additional Accessories for the Metroplex
NiceHansa can supply a range of additional accessories including a vertical lock, a horizontal lock as well as a lever operated release mechanism. Gate Repair Services technicians will be able to assist you in determining the ideal set-up and accessories to be used with the Nice Metroplex depending on your individual needs.
Maintenance of the Nice Metroplex
Absolutely no maintenance of the Nice Hansa Metroplex should be undertaken by the user since maintenance involves performing testing of the system as per the first installation. Maintenance should only be performed by a qualified technician and should ideally be performed once every 6 months.
Contact us for the installation of the Nice Metroplex
Gate Repair Services are experts in the installation, repair and maintenance of the Nice Hansa Metroplex system as well as their full range of products. Simply give us a call or fill in our contact form and to discuss your needs.